Gluten-free pizza recipe
This recipe is again very doable. For the base, I used the gluten free chapati flour that you get in the market. Made a dough, let that sit for an hour before baking it.
Time:
Prep Time:1 hour
Cooking Time: 30-40 mins depending on your oven.
Ingredients:
For the base:
Flour: 2 cups for 2 pizzas
Salt: 2 tsp
Sugar: 2 tsp
Baking Powder: 1tsp
Yogurt: 1/4 cup
Oil: 1 tsp
Water: to knead the dough
For the topping: I am giving this list for two pizzas.
(You can choose your toppings according to what's available in your pantry)
Capsicum: 2 medium sliced
Red bell pepper: 1 big sliced
Pineapple: 1/2 cup diced
Onions: 1 medium. Sliced
Green Chillies: 2 chopped
Mushrooms: 2 cups chopped. Cook these for a few minutes in a pan with a few drops of oil.
Olive oil( Vegans can use coconut oil): 2 tsp
Sauce: 1/2 cup. I used hot and sweet + ( You would also need sauce for the base. 1/2 cup)
Cheese (Optional): 1/2 cup. Vegans can skip this.
Method: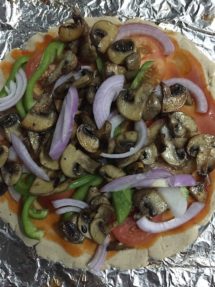 Make the base: In a big bowl, combine everything together: flour+salt+sugar+baking powder+yogurt+oil ( do not add water just yet), combine them well. At this point, if you feel the dough would require more water then add some water slowly. Knead for a few minutes and add some more. The dough shouldn't be too wet. Knead the dough very well. The more you knead the better base you make. I give this 10-15 minutes. After making the dough, let the dough sit for an hour. Cover it with a cloth and let this rest.
After an hour, start making the base. (this is a good time to preheat the oven at 200 C) If you can roll the base with a rolling pin, then great but if you can't then use your hands to flatten them. Divide the dough equally into two parts. Take one part and fold it like a ball. Now use both your hands to flatten them. You can put the ball on the working surface (make sure you put a few drops of oil on the work surface to prevent this dough from sticking) and keep pushing the dough slightly outwards. It takes time, but this is a fun and an easy way to make the base. You can also use the rolling pin in between to help you flatten. Don't make it too thin. The base should be thick like a stuffed paratha.
Put the toppings. Now on the base, apply some ketchup (Oh yes, trust me it tastes fantastic) or you can apply tomato pizza base too. Totally up to you. I go with Hot and Sweet tomato ketchup. YUM! Spread the ketchup on the base, and now place the toppings. Go generous, put whatever you like. Grate some cheese, also add some seasoning of salt and pepper and a few drops of olive oil. and now your pizza is ready to go into the oven at 180 C for 30-40 minutes. But make sure you place your pizza on a silver foil, grease the silver foil with a few drops of oil so that the base doesn't stick to it.
Baking tips: I bake the pizza on the lowermost rack for 25-30 minutes, once I see the base changing color to brown, I put the pizza on the top rack for 5-7 minutes so that the toppings get slightly charred. But then this is how I do it, you bake it the first time, see how it turns out and you can make the changes in the second pizza accordingly.
After the pizza is properly baking, take it out and do not cut it, this needs to sit for 5-7 minutes else you won't be able to cut this properly.
Now cut the pizza into slices and serve. The pizza will be slightly different from your gluten pizza but it tastes fantastic. The base might be crispy and this is what I like, stiff and crisp. I love this pizza, I hope you like it too and nonvegetarians you can always add your meats on top :-).
For more visit our next recipe