This tastes heavenly, seriously! If you have landed on this post then i strongly recommend that you go through this very doable recipe and make this right now. I tried this in Saigon, the rolls were deep fried and slightly bland. I have made some changes to the original dish to make it punchy and flavourful, hope you like my version. You can accommodate or change veggies according to your likings, there are absolutely no set rules to this recipe, choose your own fillings make it your own.
Serves: 4 spring rolls, enough for one person.
Time: Chopping+cooking…15-20 mins.
Ingredients:
Shrimp: 3-4, properly cleaned.
Onion: Half. thinly sliced.
Green Capsicum: 1. very thinly sliced.
Yellow Bell Pepper: 1/2, thinly sliced.
Red Cabbage: half cup, thinly sliced.
Green Chilli (Optional):1. very finely chopped.
Rice paper: 8 sheets ( You would need 2 sheets per roll)
Salt
Olive Oil: 2-3 tbsp
Sweet Chilli Sauce: 2-3 tbsp
GF Dark Soya Sauce: 2-3 tbsp
Dipping Sauce:
Thai sweet chilli sauce: 1/4 cup
GF Soya sauce: 1 tsp
Vinegar: 1 tsp
Method:
Step 1. Marinate the shrimp and cook them.
Sprinkle some salt, some paprika powder and 1 tsp lemon juice. Mix them well, coat the prawns. Levave the prawns to marinate for 10 minutes.
In a pan pour some olive oil( 2tsp), cook the shrimp both sides. When the surface of the shrimp turn brown, remove them from the pan.
Step2. Saute the veggies.
In a same pan, pour some oil, 2 tsp, saute the onions with a pinch of salt. When onions caramelize. Take out and keep aside.
Repeat the same with capsicum, bell pepper and red cabbage. Saute them separately not together.
Your veggies are now cooked.
In some oil,
Step 3. Wrap the shrimp and the veggies.
Wet the rice paper sheets, exactly 2 of these,  in water for a minute. The rice paper sheets will turn soft, take them out of water, shake off the excess water. Now put the paper on the work surface and start stuffing it with veggies, shrimp and sauce and fold the sheet like an envelope. Keep pressing the papers so that they stick properly.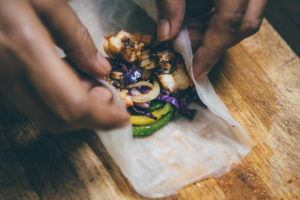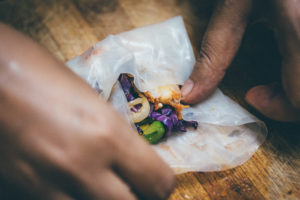 Repeat this with other rolls too.
Step 4: Cook them
In a non stick pan pour some oil, 1 tbsp, and place the rolls, I prefer placing the folded side down. On a low medium heat let these cook for 1-2 minutes. the surface of the rice paper will turn brown and become slightly crisp. You see this, time to flip the rolls. Flip them very gently. Let the other side cook too. When all sides are light brown and slightly crisp. time to take them off the stove and serve.
Mix all the ingredients of the dipping sauce and your sauce is ready.
Serve the rolls hot with your favourite dipping sauce.